June 4, 2014
Dip & Dive Three cool pools with poolside panache — from furniture to landscaping — make a splash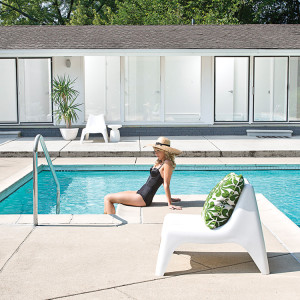 WHAT// A West Coast native finds a metro Detroit home swimming with familiar style
By Judith Harris Solomon
THE BACKSTORY
Not long after moving to the Detroit area, Julia and Richard Slatcher purchased a 1960 home in Beverly Hills. When Julia first saw it, she immediately thought of the house she grew up in in California, which was designed by renowned architect William Wurster (known for his California residential designs using indigenous materials). Because the home — both inside and out — was, according to Julia, "very tired and dated," the Slatchers hired Birmingham-based architect Michael Poris of McIntosh Poris Associates and Chris Juneau of JunoBuilt in Beverly Hills to do a major renovation. "We wanted it to be very warm and modern … not sterile and cold," Julia says.
As for the L-shaped pool, the couple (he's an assistant professor of psychology at Wayne State University and she's a consultant for nonprofit organizations) kept the existing one as is for the time being. "We didn't change the pool; we just changed the context of the pool," Poris says. Before, the windows and doorwalls facing the pool were framed separately so it didn't read as a continuous window wall, he adds. "It was visually disjointed. By adding trim panels between the doors and windows, we made it more cohesive and it feels more serene."
WHITE HOT
The Slatchers find the four great-looking white, molded-plastic armless chairs from Ikea along the pool deck, the two white cast-aluminum martini tables, and four white Barrow lounge chairs from West Elm to be very accommodating for family and friends during summertime gatherings.
HINT OF HOCKNEY
"The pool area is very California and mid-century, which the Slatchers really like," Poris says. "It's right out of a David Hockney painting."
ROCK STARS
Two dark green rocker chairs from Brown Jordan's Tamiami line add just the right touch.
MAKING A SPLASH
"The pool area is the centerpiece of the house," Julia says, "as it is visible from most of the house through floor-to-ceiling windows and sliding glass doors."
DAILY DIP
"We (the couple has two children) swim in it almost every single day in the summer," Julia says. "It is very private, yet it affords a beautiful view of the Rouge River."
PAINT PATTER
The brick exterior walls that face the pool, formerly a boring yellow-beige, were repainted a rich dark gray color "to help make the home look more contemporary and to help differentiate the brick walls
from the continuous glass and white window wall," Poris says.
WARMING IT UP
"Michael's design for our home has a warmth that extends outside, due to the striking Western red cedar overhangs that surround the entire house — including the window wall by the pool," Julia says.