June 3, 2014
Persistence, luck help new developers build Midtown and a legacy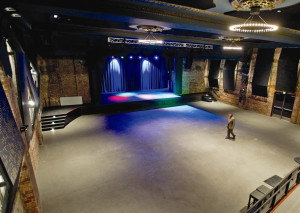 Crains Detroit Business
Originally Published: May 11, 2014 8:00 AM Modified: May 14, 2014 9:29 PM
George Stewart recalls a thriving cultural scene in Detroit when he moved here from Baton Rouge, La., more than a half-century ago to pursue a Ph.D. in mathematics at Wayne State University.
But over the years, Stewart noticed a gradual decline in the city's entertainment offerings. He set out with development partner Michael Byrd to change that, focusing their attention on the site of the former Sassy Cat adult theater in Midtown.
Now after 15 years and upward of $3 million out of their own pockets, the formerly blighted one-block area of Woodward Avenue between Selden and Alexandrine streets has become the Woodward Garden Block Development.
A combination of luck and a healthy dose of nontraditional financing finally got the $44 million mixed-use project across the finish line, said Stewart, principal of the project's developer, Woodward SA-PK LLC.
"We were lucky as hell," he said. "We had to use a lot of upfront cash. We were inexperienced developers and don't have deep pockets."
With the final piece of the development — the 61-unit Woodward Garden Apartments — having opened earlier this month, Stewart can breathe easier after years of having to wrangle for funds — the result of him being a new developer working in an area that had long been dilapidated and a favorite spot for squatters.
The new development includes the apartments, 52 of them leased so far; the Garden Theater on the site of the former Sassy Cat; a 300-space parking deck on West Alexandrine; and 75,000 square feet of office and commercial space with Great Lakes Coffee Roasting Co., Midtown Detroit Inc., The Kresge Foundation, Wayne State and the 88-seat Grille Midtown restaurant as tenants.
That's just the beginning. Letters of intent are signed for other leases that would fill up the 7,700 square feet that's unoccupied, although Lawrence Williamson, real estate manager for Midtown Detroit, which is handling commercial leasing on the project, declined to say with whom.
"Now we have to make it work," Stewart said.
 Big vision
Stewart and Byrd were visionaries with large-scale plans for Detroit development years before Dan Gilbert began building his real estate empire and redeveloping it downtown, said David Di Rita, principal of the Detroit-based Roxbury Group, the developer of the David Whitney Building and the former Globe Trading Co. building along the Detroit River.
"They are the kind of developers we need more of in Detroit," Di Rita said. "They had a vision, and they stuck to that vision, to really transform that block."
For Stewart, the Garden Block development is the end result of two unique factors: getting frustrated with his prime hobby during retirement and estate planning.
Upon retiring from EDS Corp. as a regional manager in 1996, he got his sea legs after buying a boat and spending his days fishing on the Great Lakes. But Stewart, also a former director of information systems and communications for General Motors Co., grew tired of recreational fishing after a couple years.
"I thought, 'If I never have to untie a damn boat and get up at 4:30 a.m. again, I'll be happy,' " he said.
That's when Stewart started renovating homes and selling them, totaling about 20 or 30 from 1998 to 1999, primarily in Detroit, his first real estate experience before tackling the Garden Block development. Ultimately, Stewart, 77, wants the momentum in building a real estate enterprise to pay off for his three grandchildren, who are in their early to mid-20s.
"The vision has never been for Michael and me," he said. "Hopefully we can pass the baton onto them and give them the foundation of something that they can run."
George Jackson, the outgoing president and CEO of the Detroit Economic Growth Corp., said the project's legacy is important.
"It's important because it's growing wealth in the African-American community by having future generations involved," Jackson said.
The project is significant to the African-American business community for a number of reasons, he said. Among them: There aren't many large-scale African-American developers who could have tackled the project, and the partners showed great business acumen, like remaining flexible and striving for high quality.
Corporate gigs and concerts
The plan for the Garden Block was much smaller in the beginning, starting with the former Sassy Cat. Stewart said the original plan was simply to restore the theater, but he and Byrd realized the redevelopment of the entire blighted block was necessary.
Upcoming events at the theater include performances by comedian Paul Mooney on May 17 and R&B singer Tamar Braxton, the younger sister of Grammy winner Toni Braxton, on June 3.
Stewart plans to host a variety of national and local acts 30-40 weeks out of the year, two or three nights a week. In addition, the theater will host weddings, corporate, nonprofit and religious events and conferences.
There are also three small conference rooms on the second and third floors for rent, Stewart said.
"The place has been quite popular," he said.
Creative financing
Funding for the project came from a wide range of sources, but $19 million from the U.S. Department of Housing and Urban Development Section 108 Loan Guarantee Program in 2006 was the most important part of the financing, Stewart said.
The program allows communities and states to convert small portions of Community Development Block Grant dollars into federally-guaranteed loans to fund economic development "for the benefit of low- to moderate-income persons, or to aid in the prevention of slums."
"That was the exact vehicle we needed," Stewart said. "That was what sort of made the deal."
Another $8 million came from HUD's 221(d)(4) program, which helps finance construction or rehabilitation of multifamily rental housing for moderate-income families, the elderly and people with disabilities.
About $10 million in U.S. Department of Treasury New Market tax credits, which are for the development of blighted or contaminated areas, provided about $4 million in equity. There was about $6 million in brownfield tax credits; $2.5 million in historic tax credits; $121,000 from the DEGC's Creative Corridor Incentive Fund and a $100,000 DEGC SmartBuildings grant; and $3.5 million in private equity.
All told, the rehab of the former Sassy Cat theater, which can accommodate 1,100 people, cost $10.5 million, Stewart said. The parking deck cost $10 million. The apartments, which also feature 11,200 square feet of ground floor commercial space, were $13.5 million.
The rest of the development, which was the renovation of the former Blue Moon Building and construction of 24,000 square feet of retail and commercial space, was $10 million, Stewart said.
Those figures don't include the $3 million he and Byrd spent out-of-pocket on things like architectural work, site plans, and legal and consulting fees.
"They put up their 401(k)s, life savings — the whole ball of wax," Jackson said.
Stewart said the development group gained control of the properties for the project from various private owners on land contracts over the years.
It bought 3919-3921 Woodward Ave., the site of the restaurant, for $750,000 in 2010, according to Washington, D.C.-based real estate information service CoStar Group Inc. It bought the theater building at 3929 Woodward for $940,000 in 2012 and the apartment site at 3901-3915 Woodward from Michael Zakoor, the former owner of Zakoor Novelty Co., for $1.48 million in 2009.
The restaurant part of the development, Grille Midtown, features American-style cuisine during lunch and dinner hours. With exposed brick walls and a car-themed décor, it offers mid-priced hamburgers, sandwiches and entrees such as Grille jambalaya ($16) and tenderloin medallions ($16). For dinner, entrees range from the $19 blackened Mahi Mahi to filet mignon ($27) and ribeye ($29).
Demand for housing
Woodward Garden Apartments adds to the supply of units in the booming Midtown apartment market, where occupancy rates are 97 percent, according to a November 2013 report by Midtown Detroit.
There are 7,530 units in 155 buildings in the market, according to the report.
The 53 one-bedroom units at the Woodward Gardens range from $850 to $1,250 per month and are 550 to 860 square feet. The eight two-bedroom units range from $1,500 to $1,800 per month and are 1,050 to 1,225 square feet, according to Stephanie Byrd, marketing manager for the apartments and Michael Byrd's daughter.
Twenty-two of the units are currently occupied; another 31 units have been leased, Byrd said. Woodward Gardens started accepting lease applications in late March.
"Demand was high from the get-go and it has only increased," she said.
She said the target demographic is young professionals, Detroit Medical Center employees and other workers downtown.
Detroit-based First City Real Estate Management LLC manages the apartments, Byrd said.
An 'act of sheer will'
Jackson said Stewart and Byrd "did everything right" as new developers by seeking out help and taking advice from staff at the DEGC and Midtown Detroit.
"They didn't know everything they needed to, but they listened," Jackson said. "We worked with them being sort of advisers and consultants. I liked their integrity and the willingness to do things the right way."
Developers say sometimes a big vision, and sheer relentless persistence, are the things that see a project through. That and building relationships with people who can help support it and help with the creative financing elements.
In hindsight, Stewart and Byrd — who is also the owner of Flood's Bar & Grille downtown and the former Mr. Mike's restaurant, which burned down last summer, at Woodward and Piquette Street — picked the right development location for the Garden Block project.
But it wasn't viewed as the right location when the project began, Di Rita said.
"It was an act of sheer will back then, and it could have turned out very differently. You've got to respect not just the effort there, but the scale of the effort, and the transformative nature of that project."
Di Rita has faced similar challenging projects. Both the David Whitney and Globe building projects — which Di Rita said are nearing completion — are using significant amounts of nontraditional financing.
Stewart, who one day hopes to move back to Louisiana, said he's not ready to take on another development.
"Now I need to take a vacation," he said. "I don't know what I'm going to do right now. All I know is that I'm tired."
He looks back at the last 15 years, shakes his head — and smiles.
"We were naïve enough to go for it," he said. "We went for it, and nobody thought we could do it."