June 30, 2014
Rediscovering the Garden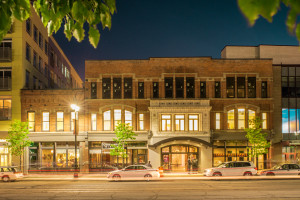 Saturday night in Midtown. Orchestra Hall is hosting Canada-born pianist Louis Lortie, who is playing Chopin. The Majestic Theatre boasts English electronic music producer James Blake.
The Grille Midtown restaurant is nearly packed. The food is great; drinks are flowing; it's sort of loud — and wonderful. And there's not even an event going on at the restaurant's adjoining theater.
Some of the crowd made the trek up Woodward Avenue from the Chrysler Black Box Theatre after a Cabaret 313 show. Others drifted in from the massive hospital complex on John R Street across Woodward Avenue or perhaps from a freshly painted apartment building that stands on footing once housing a novelty shop.
After dinner, couples head to a parking lot, walking past on the northern end of the block. It, too, is busy, even though it's after 11 p.m.
In other words, the block is hopping.
It's a vision that George Stewart and Michael Byrd have dreamed about. And after 15 years of filling out paperwork, scrambling for financing, and basically waiting for the city's revival to catch up with their dreams, it's coming together.