June 14, 2016
Woodward Garden Apartments featured on Archinect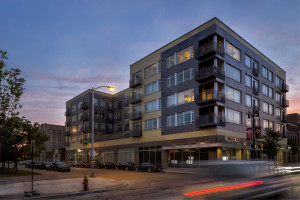 McIntosh Poris Associates was hired by a Detroit-based group of private investors to reinvigorate the 3900 block of Woodward Avenue in the Detroit Midtown Area. The design and construction of the Woodward Garden Apartments, a five-story mixed-use building, was part of the final phase of a 15-year long block development. The 11,000-square-foot building is made up of commercial/retail space at the ground level, including the Michigan Research Studio (also designed by the architects), with floors two to five consisting of 61, market rate units, including studio, one-bedroom, and two-bedroom apartment homes. The light-filled, sleek units feature high ceilings, abundant windows, and open floor plans.
The site required a full masonry exterior but was outside of the owners' budget. McIntosh Poris Associates resolved the issue by conjuring a loose interpretation of a "masonry exterior" and designed the façade with a highly efficient fiber-cement panel rain screen system. To resolve required corner conditions, the architects again went against conventional means by dissolving the building's corner and creating a void to serve as a private outdoor balcony for corner-units.
A dynamic façade was introduced through the use of color and a panel joint composition. Color selections intentionally contrast with the adjacent Woodward Garden Theater (also designed by the architects) to provide a fresh interpretation to the ubiquitous limestone detailing seen as a staple in historical buildings around the existing district.
The building offers a wide variety of amenities including access to an outdoor terrace located on the second floor, which not only provides a private retreat, but also ensures all units benefit from the quality of natural light. Residents have direct access to the adjacent parking garage on the second floor to provide secured, covered parking. The 4,000-square-foot basement is dedicated to additional tenant storage.